Healthy, natural and beautiful
Dr Matthew Moore, our medical director, is a highly-skilled medical aesthetic practitioner. His aim is to make the final look as natural as possible so people can hardly tell you have had any work done. He welcomes you to have a free consultation with him at his Harley Street consulting rooms.
His qualifications include MRCGP, MB BCh, BSc (Hons), PGCert (Ed), DO-HNS, MPhil and his GMC registration number is 6098587.
If you would like to arrange a consultation then please call 0207 129 7438 or email james@cjskinhealth.com
We specialise in the following non-surgical treatments:
Profhilo improves your skin tone, look and shape by stimulating your natural collagen production by injecting four types of Hyaluronic acid at key points on your face. Over a two month period it continually works in your skin to make it look more healthy and naturally refreshed.
Dermal fillers replace the volume that your skin has lost in key areas around the face such as nose to mouth lines and can help to shape and contour your lips, cheeks and jawline. They are hyaluronic acid based and we use the highest quality products, which give you the results you are looking for and last longer.
Non-surgical lifts for your face, neck and arms using the latest innovative technology to save you needing or wanting surgery.
---
Charlotte has an active busy life and just needed a little boost to her skin. As you can see, her skin now looks more healthy, toned and contoured, and the lines from her nose to mouth softened. The sides of her mouth are upturned and the dip in her chin is shallower, which gives her lips a better shape. Her main area of concern was her frown lines and they are one of the things that she is most happy about. Also the fact that she can still be expressive is really important.
Using a combination of Profhilo and dermal fillers, Charlotte now has the look she wanted and is being complimented on how well, happy and healthy she looks. We are delighted to have been able to help her.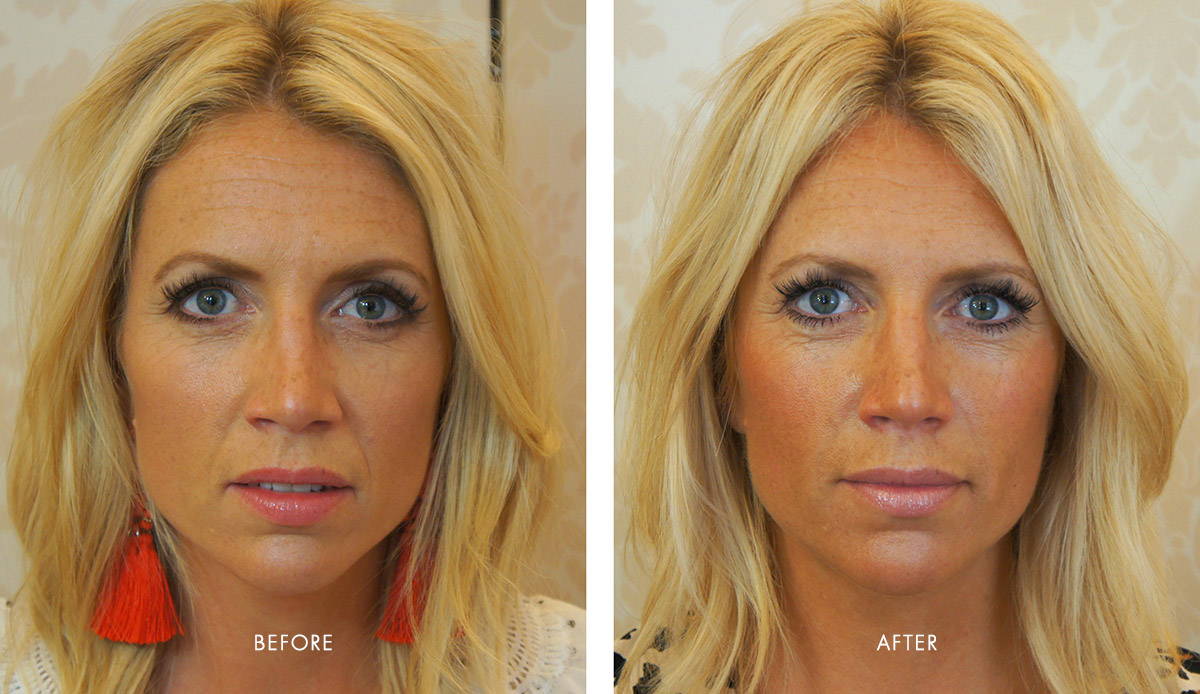 I am absolutely thrilled with the results of the replacement therapy I received from Dr Matthew Moore and would highly recommend this service to others. Not only was he professional and polite but the results are excellent. The end look is completely natural, so not obvious at all that I'd had 'work' done, but a very much improved version of myself. Essentially this treatment has taken 5-10 years off my appearance and my skin is much more radiant looking. I am approaching 40 and had quite pronounced lines between my eyebrows, from my nose downwards, and around my mouth. These were all softened significantly and I am delighted with the results. Dr Moore also was able to give a boost to my upper lip (which has always been thin) and this now looks naturally plumper without looking in any way as if I've had something done (definitely no trout pouts here!) My husband was enormously impressed and couldn't believe what a natural but effective result was possible. I will most certainly be returning again. Thank you so much.
A big Thank you to Dr Moore. Not only do I look better but also feel more confident in myself. Life takes it tolls for sure, and as I'm not far of 60 I thought it was time for me to be put first for a change. So with positive thoughts I went to see what could be done to freshen my look. As soon as I entered the consultation I knew I was in professional hands. There was no pressure just a true understanding of what I was looking for......something natural, something that would make me look like I've been on a long relaxing holiday. So we proceeded with some dermal fillers around the mouth, lips and eyes, the results were perfect just what the doctor ordered so to speak. I have had so many compliments since then, it makes you feel so good, truly a wonderful result. Thank you for the restart of the new me. Again many thanks, Carole.
I was very apprehensive at having any work done as men don't usually talk about that sort of thing. After meeting Dr Matt that all changed. He suggested a couple of different treatments which would complement each other. How right he was, people having been complimenting me on how I look. Even my girlfriend pointed out I looked good but didn't realise I'd had any treatment. Job done! I can't praise Dr Matt enough.
I first came to Charles James Harley St because I was concerned with early signs of ageing and I'm so glad I did! My forehead was developing deep lines that were making me look older than I am. I also felt that I had lost the cheek definition of my youth. After a thorough and friendly consultation with Dr Moore, I was recommended to have Bocouture on my forehead and Profhilo around my cheekbones and jawline. After only one week, the Bocouture has softened the lines on my forehead, but hasn't stopped the movement, which is something I was really concerned about. I didn't want to look frozen or lose my character. And the Profhilo has created a soft, subtle structure to my cheeks which makes my skin feel firmer, lifted and hydrated. Dr Moore made me feel so comfortable, and reassured. I am really pleased with the results, I'll definitely be back.



If you would like to arrange a consultation with Dr Matthew Moore at 10 Harley St, Marylebone, London W1G 9PF, please call 0207 129 7438 or email james@cjskinhealth.com